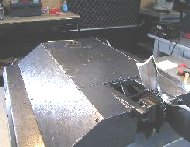 Kritical Mass was a robot that competed in Season 1.0 of Robotica. It beat Grimlock in the preliminary stages and then beat Hot Wheels in the Fight to the Finish but lost to the eventual Champion Run Amok in the preliminary stages of the Final after the two robots scored 210 points each as Run Amok had won 2 out of 3 events. The team behind Kritical Mass returned in Robotica Season 3.0 with Ultraviolence.
Kritical Mass also competed in Season 3.0 of BattleBots as Kritical Mass 2 and in both seasons of Robot Wars: Extreme Warriors and the first series of Robot Wars: Extreme as Manta.
Kritical Mass was named during the building process where the team thought it had reached kritical mass.
Wins: 4
Losses: 3
Total Points: 425
Season
Round
Opponent
Trial
Points
Result
1.0
Heat
Grimlock

Grimlock

Grimlock

Speedway

Maze

Gauntlet

Fight to the Finish

70

100

45

N/A

Won

Won

Lost

Won

Final
Run Amok

Run Amok

Run Amok

Speedway

Maze

Gauntlet

50

100

60

Lost

Won

Lost