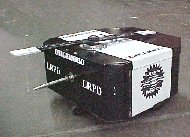 "...To Pulverize and Shred."
- HandsOFF!'s motto, a play on the Los Angeles Police Department motto To Protect and Serve. 
HandsOFF! was a robot built by Litewav Robotics that competed in the first season of Robotica. It was armed with a spinning blade and ramming spike and had no success, losing to future runner-up Ram Force in all of the preliminary stages. Litewav Robotics returned in Season 3.0 of Robotica with the much more successful Mini-Rip.
HandsOFF! was so themed after a police vehicle because one of its builders Greg Hannold, was a police officer. As a matter of fact, the LRPD initials stood for Litewav Robotics Police Department. Because of its theme, HandsOFF! was a crowd favourite.
Litewav Robotics also entered the superheavyweight category on BattleBots with Ripoff, which the team had actually originally planned to Robotica Season 1.0 but was overweight. However it had no success, losing to the future runner-up Atomic Wedgie on a unanimous 45 - 0 decision. They also entered Robot Wars: Extreme Warriors with 6 Million Dollar Mouse, using HandsOFF!'s blade but it did mediocrely.
Wins: 0
Losses: 3
Total Points: 20
Season
Round
Opponent
Trial
Points
Result
1
Heat
Ram Force

Ram Force

Ram Force

Speedway

Maze

Gauntlet

20

0

0

Lost

Lost

Lost